We couldn't have special ordered any better weather for this past weekend. It was hot and sunny with just the right amount of breeziness to keep you from overheating. Absolutely gorgeous for Father's Day weekend. Every opportunity we had, we made sure we were outside to enjoy the weather. We bbq'd Friday - Sunday, even camped out Saturday night with my sisters who had never tented before. This was odd to me seeing as how they are Girl Scouts, I thought scouting had a camping requirement but I guess things have changed. Anywho, we also swam at a friend's pool and even took a drive over to the picturesque
Wintergreen State Park
in Canajoharie. This was the only hiccup to the entire weekend.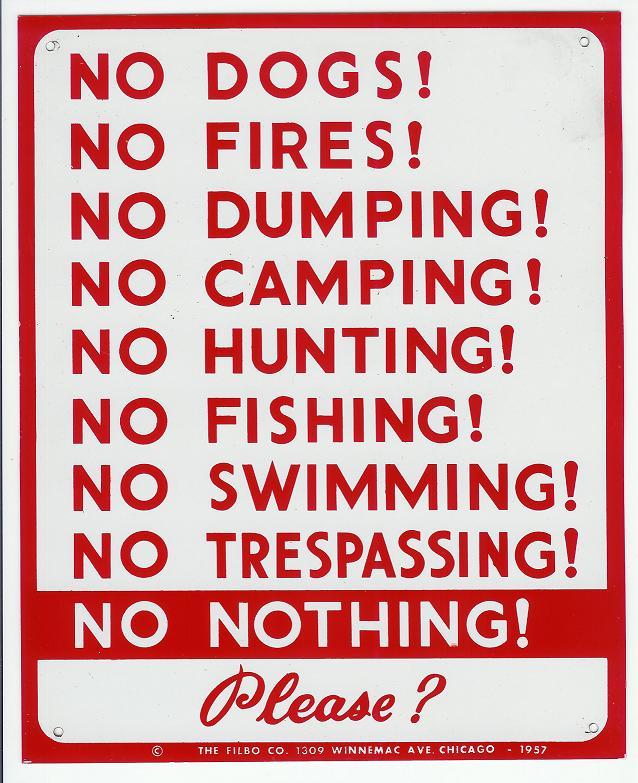 Close, but not the actual sign...
So we all get suited up for a morning of waterfall fun at Wintergreen, complete with spray on sunscreen, and drive the 20 or so minutes it takes from our house to the park. The weather as I already mentioned is out of this world and the kids are stoked to go swimming in the river. Well, we get to the park and notice there are a bunch of new signs posted. "No Trespassing," "No Swimming," "Violators will be prosecuted." To go along with these signs, Canajoharie police are spot-checking along the river to ensure no one violates the new policies. We spoke with an officer on site who pointedly stated that Wintergreen "due to
recent events
is now a picnic park only." Apparently 80 or so arrests have already been made and the summer season hasn't even peaked yet. BUMMER.
Call it a coincidence, but we just watched the new
Footloose
movie Friday night on Netflix and I couldn't help but notice a huge similarity between the movie and the newly enforced rules at Wintergreen State Park. No disrespect to the families who have lost family members to the falls, but it appears this is yet another instance of a small minority ruining it for the vast majority. The falls and their related pools have been enjoyed as a watering hole by locals for
years
. The Park was created to spotlight these natural wonders but now due to new rules/regulations I fear it'll be yet another State Park slated for closure due to low admissions/non-use. I know that I personally will probably not go back. Who wants to drive twenty minutes just to use a picnic table under a pine tree?? The whole point of the Park was the falls and enjoying the water. To even stand at the water's edge is now considered trespassing, so what's the point? It's just unfortunate really.