I'd participated in a poll not too long ago asking if I choose to celebrate a dating anniversary, a wedding anniversary or both. Being the better half of a married couple, my response was both. Here's why: we were together for so long before getting married that our dating anniversary was our anniversary. So once we got married, I continued to celebrate it because it was an accurate depiction of how long we've actually been together. We've only been married for two years, but today marks thirteen years in the history of us as a couple. In light of reaching thirteen years, because God only knows how we did, I've decided to share thirteen memories and a collage of photos of us through the years.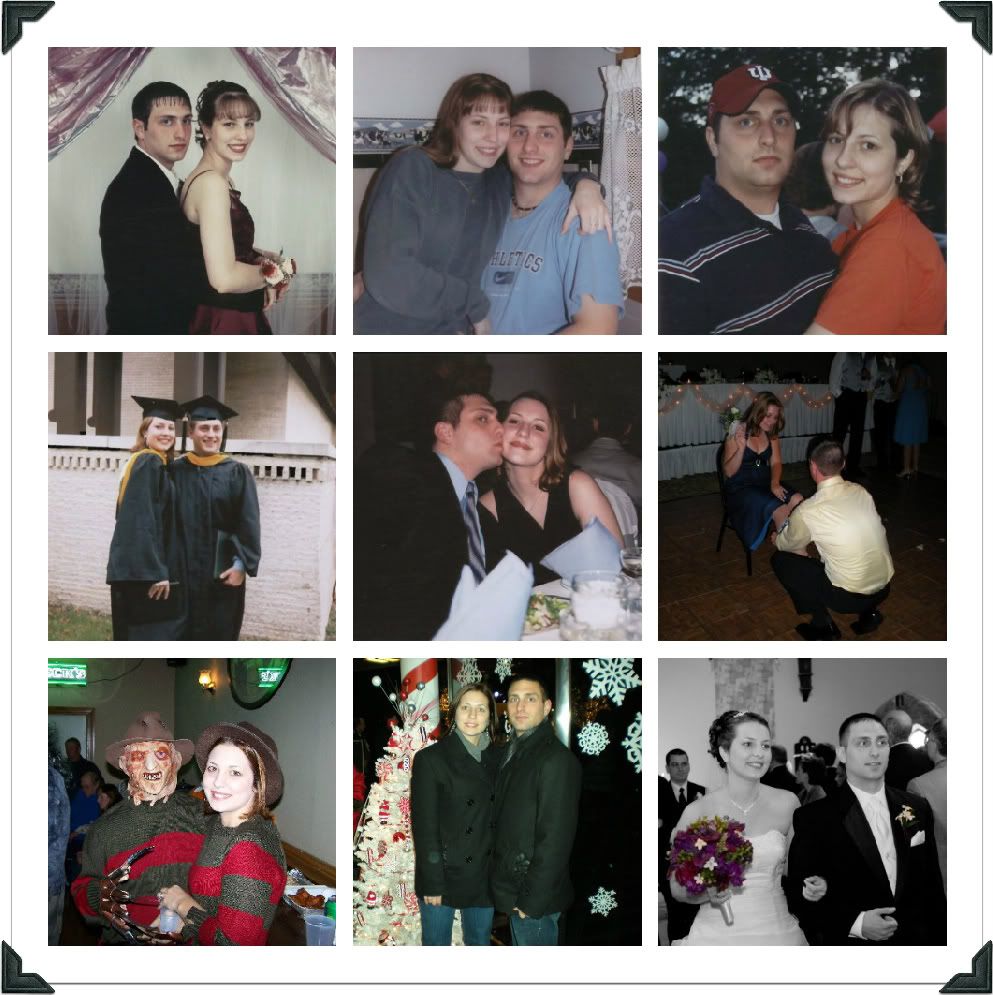 Memory 1: He asked me out in gym class on 2/9/99.
Memory 2: Our first Valentine's Day I bought him a pair of silk boxers and a teddy bear. He decided it was a good idea to try them on and model them in front of my mother (much to my embarrassment).
Memory 3: He almost didn't make it to our first prom together because his parents truck broke down on the way back from Myrtle Beach.
Memory 4: We traveled to Tennessee with his family via motorhome to see the Grand Old Opry. He sang "Hey Good Looking" to me that entire week.

Memory 5: In high school "my lips hurt" was code for wanting a kiss.
Memory 6: His first car didn't have a good stereo system in it so he would play our song (Edwin McCain's "Could Not Ask For More") on his walkman with plug in speakers.
Memory 7: One of my favorite dates was eating KFC in the park in the car while it was pouring out.
Memory 8: We both called in sick for an extra day together off following our trip to Hershey PA back when we worked at Dream's Park (sorry Stef!)
Memory 9: When we got our first apartment we slept on a leaky air mattress for a week before the furniture arrived because we were just so excited to have our first place.
Memory 10: Our first apartment was on the second floor with no A/C so we would eat supper and watch Failure to Launch on VHS in the bedroom where we had a little window A/C unit.
Memory 11: We were vacationing in NH when we adopted our fur-child Riley. Even though our apartment did not allow pets, Justin said we'd make it work...and we did.
Memory 12: On our honeymoon we took a walk through a sunshower to a lighthouse on Grand Bahama Island and did impressions of our tourguide from the day before.
Memory 13: Waking up this morning to chocolate, a pez keychain and a card which is identical to the one he bought last year. I guess he really liked that card seeing as he's bought it twice for me.