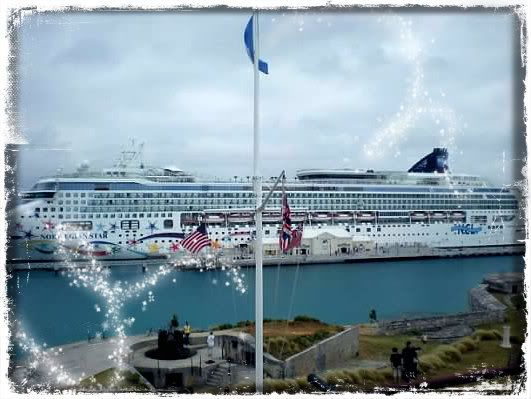 Back in February I had mentioned that Justin and I would be
going to Bermuda
as a combo anniversary/Valentine/Birthday gift. Although I didn't specify the dates of our trip in the blog, last week was our week in paradise. We were aboard the Norwegian Star for a 7-Night Cruise from the NYC port to King's Wharf Bermuda.
Days 1-2 we were at sea and the weather was wonderful. So wonderful in fact that we took in some sun bathing on the upper deck and developed a bit of a sunburn. Justin's burn turned to bronze overnight. I can only hope that our future children get his skin. We also took in a Merengue dance class while at sea and participated in a Pub Hop. Although we had fun at the dance class, it's safe to say the Pub Hop took the cake. There were around 40 people who participated. We went to all the bars on board and were presented with a specialty drink which we had to chug. Our procession around the boat did not go without notice as there was singing, games/contests, and our guide/leader shouting "Pub" into a bullhorn to which we responded "Hop."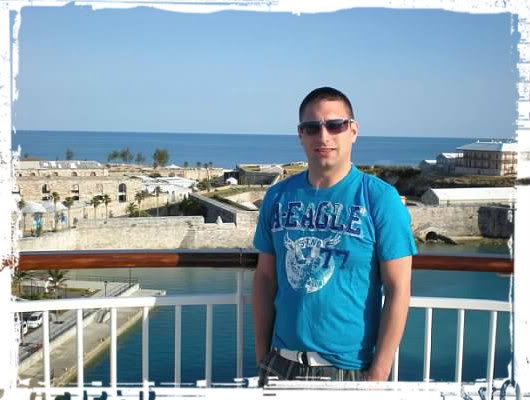 Days 3-5 we were docked in Kings Wharf and although the sun shone most of the time, it was not really warm enough that either of us would go swimming. This was fine, however, because with three days in port we had plenty to keep us busy in Bermuda aside from swimming.
The first day in port we took a guided bus tour of the Island, learning much of the history and visiting many of the attractions that Bermuda has to offer (churches, beaches, forts, world's smallest drawbridge, the Deliverance, downtown St. George, Gibb's Lighthouse, and a public dunking).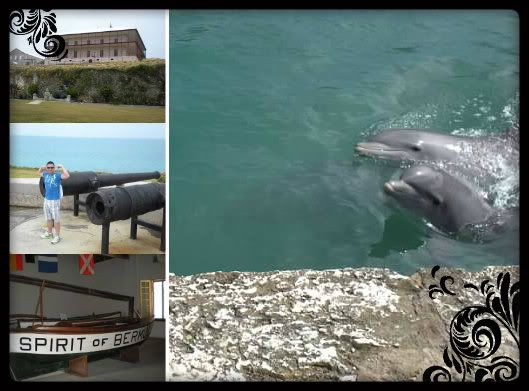 The second day in port we had signed up to kayak. Unfortunately on this day it decided to rain for about an hour while we were kayaking. Interesting fact: rain in Bermuda is salty and will sting if it gets in your eyes. Once that little trek of ours was over we hightailed it back to the boat for a hot shower and then headed back out to explore King's Wharf Royal Naval Dockyard on foot. We toured the fort, the Commissioner's house, saw a dolphin show, and had wings and Rum Swizzles at the
Frog & Onion Pub
.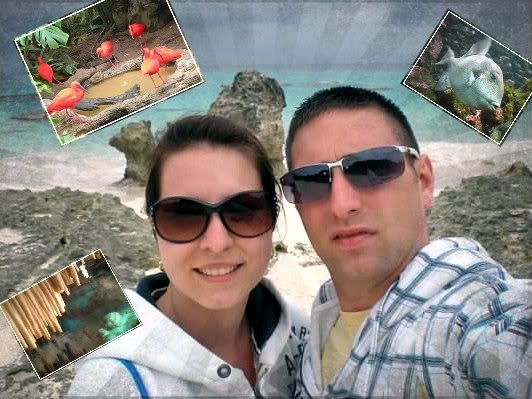 Our last day in port we decided to do a self-guided tour of the Island. Bermuda is only a 20 mile island, English speaking, easy to navigate and relatively safe. We bought an unlimited one-day-pass for the buses/ferries and made our way to the Crystal Caves, Aquarium/Zoo, and Horseshoe Bay Beach. I want to take a moment to expound upon how nice the residents of Bermuda are. If you need help finding your way around, don't hesitate to ask. Want to pass time riding the ferry? Chat with the locals. They are extremely friendly and have a pleasant disposition towards tourists.
The remaining two days of our trip involved taking in many shows available (comedy, musicals, magic, etc) and stuffing our faces enjoying the five-star cuisine aboard the ship. We also spent time packing up our stateroom in preparation for docking in NYC Sunday morning. While we were both sad that our cruise was quickly coming to an end, we were excited to pick up Riley from my parents' house.
Our trip to Bermuda can only be described as a once in a lifetime experience. Please feel free to ask questions about Bermuda or cruising in general, I will be happy to share pointers/tips. In the meantime I will be playing the lottery in hopes of hitting it big so I can plan my next trip.